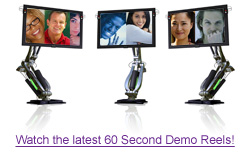 60 Second Demo Reels are fast becoming
the new industry standard in demo reels for the professional actor.
Newest
Casting timelines are shrinking and most busy executives only view about sixty seconds of a demo reel anyway, so why not get your best work edited into a 60 Second Demo Reel that can get you hired?
60SecondDemoReels.com clients' videos are posted here for free in a humongous video player that loads extremely fast.*
You'll also get two Quicktime files in small and large sizes to keep.
Smartest
You and your agent can share your 60SecondDemoReels.com video electronically and instantaneously for free from this site using the "Share This" button saving you hundreds of dollars because there are no DVDs to duplicate and deliver.
60 seconds is also the perfect length for actors profile sites like ActorsAccess.com, and for including at the end of an audition when you are requested to put yourself on tape.
Easiest
I'll help you get your clips organized with a Clip Log, then talk you through the best strategy for the final cut.
Since 2004, I've been helping actors get ahead of the competition with professionally designed websites at ActorsGetAWebsiteHere.com. Agents and casting directors have told me that being able to say, "Got a minute?" when pitching a client over the phone, and really being able to follow through with a 60 Second Demo Reel has been incredibly successful.
If you've got lots of footage, or clips from different genres like drama, comedy, commercials, or spokesperson work, getting multiple 60 Second Demo Reels is the best solution. At the end of your reel will be your website address where viewers can go when time allows to watch all your full length clips. (If you don't have a website yet, let me know, and I'll help you with that too.) Keeping the demo reel to sixty seconds virtually guarantees it will be viewed, especially when all the demo reels by the competition are four, five, ten mintutes or even longer!
We still do long form Digital Demo Reels for those who want them. But the best solution is to use your 6o Second Demo Reel as a hook to get them to see your longer video clips on your website when they have time and want to see more of your work.
—Tom Hillmann
TomHillmannMediaDesign.com
*If you've got a fast internet connection.
btw… Some clips contain expletives. Those will have a "Mature Language" tag. We reserve the right to not edit certain types of footage at our discretion.